Action from the Nigeria vs Mexico game in Atlanta usa
The Super Eagles of Nigeria like every other team that qualified for the forthcoming world cup are getting its house in order by playing friendlies to determine who makes the final 23.They earlier this morning played a goalless draw Mexico in the USA.Here with a summary of the game,who did well and who not so well is Onochie Anibeze with his verdict
After the goalless draw against Mexico in Atlanta yesterday I sent Stephen Keshi a text , praying God to
grant him the wisdom to sort out the confusion Austin Ejide and Vincent Enyeama may be creating for him.
The two keepers (Enyeama in the first half and Ejide in the second) were brilliant. They may pose selection problem for Keshi and his crew. They did in the past.
Remember that Ejide had displaced Enyeama during the 2013 Nations Cup preparation in Portugal but an injury in one of their friendly matches retained him on the bench and Enyeama manned the post in South Africa and did well.
Remember also that at a time during the Nations Cup qualifying matches Enyeama had poor runs especially in Liberia where he conceded two cheap goals and all the assistant coaches including goalkeeper's trainer preferred Ejide to man the posts in the return leg in Calabar.
A last minute change of mind in Calabar saw Enyeama retaining his place. Enyeama is a home boy in Calabar. He adds to the support Eagles enjoy in the town. It was same in the World Cup qualifiers. Enyeama gifted Malawi their equaliser in the stoppage time when he dropped a harmless ball for an attacker to nod in.
In Ethiopia, he conceded two cheap goals but Nigeria were lucky the referee did not allow the first one, which had crossed the line. Emenike rescued Nigeria with a brace and pressure was on Keshi to change Enyeama. But he is never one to take risks and held on to Enyeama.
Enyeama did not disappoint this time. He is the Phoenix in Eagles. Nigeria qualified for the 2014 World Cup. And watching the performance of the two keepers yesterday I know what Keshi would be going through as the World Cup approaches.
As it was in the beginning, so shall it be at the end, some may say. Knowing Keshi, I may so predict but I strongly feel that Ejide covers the goal more and commands the defenders better. It is just that Keshi, by nature, does not quickly make changes.
He is never a risk taker. And Enyeama is good in falling and quickly returning to life like the Phoenix. And Keshi prefers to stick to the one he knows otherwise the likes of Brown Ideye would have no place in Eagles any more.
The match against Mexico was good for the coaches. A picture of the World Cup team is getting clear in some positions. The new boys, Michael Uchegbu of Cercle Brugges who played in the midfield, Ezekiel Imoh, the striker from Standard Lierge and Leon Balogun who came in as a right back substitute, all showed good sparks although Balogun hurt his leg when he jumped so high to head out a ball that he fell out of the pitch. The first half was good especially in the early minutes.
Eagles created some chances but couldn't make hay. Mikel Obi, as usual, was not quick on the ball. There were times he opted to shield the ball when his team mates were free but he would not quickly pass to them. It is a style I'm hoping that the coaches would make him change. Sometimes he loses such balls and he is never fast in recovery. Victor Moses appeared to be playing for himself.
He should be less selfish. I counted about four times that his mates were on the run with him and rather than pass to better positioned mates, he would continue his dribbling runs and would eventually lose the ball. I'm also hoping that the coaches will check this.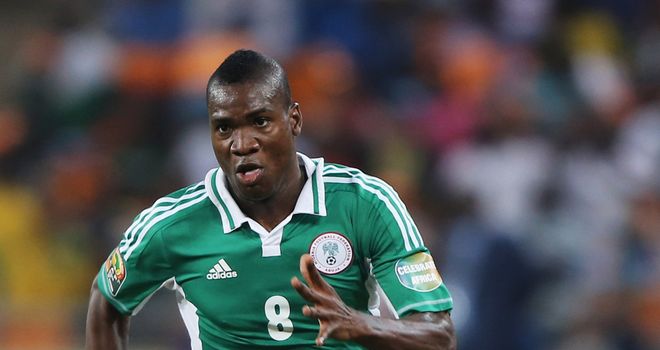 Brown Ideye,probably on the plane but shouldn't board
Emenike also opted for some solo runs when his mates were around the ball. I'm in no way against solo runs. All I'm saying is that there are times they are not necessary especially when your team mates are in good position to attack and you decide to run against three or four defenders and eventually lose the ball. It hurts the mind of any technocrat.
Eagles marked well although I didn't like the space they allowed Mexicans in vital areas close to our goal area. They will be better if they close-marked more. Omerruo, Obaobona, Efe and Echiejile all did well. However, I would have loved to see Yobo back in action again to assess him. The Yobo I saw in few games for Norwich would have a place in that team I saw against Mexico.
Onazi was outstanding as usual. Ahmed Musa played his usual game. Obinna Nsofor looked heavy when he came in. His features confirm that he has not been playing top class football. Emenike played some power game but also made some unnecessary solo runs that never yielded anything. The individualistic tendencies of the Eagles contributed to the greater possession Mexico enjoyed.
But on a general note, I would score the Eagles well and ask Keshi to do more in the area of collective play from defence to attack and shooting skills. I think that Keshi is gradually getting his acts together and needs the support of all to shine in Brazil.
source vanguard