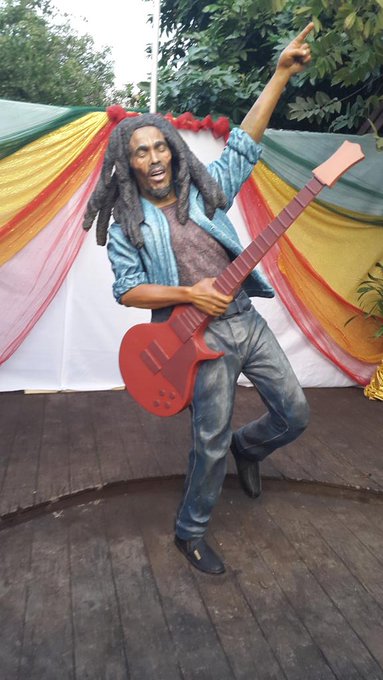 Bob Marley statue to mark his 70th birthday.
A new life-size sculpture of the reggae legend has been unveiled to mark what would
have been his 70th birthday.
An effigy of the No Woman, No Cry hitmaker captures him dancing and singing while
holding a guitar. It was unveiled in Trench Town, where the musician and his family
moved when he was 12 years old.
The statue forms part of a multi-million dollar renovation to the area's Culture Yard, and
capped a weekend of events and parties held on the Caribbean island to celebrate the
life and
work of the acclaimed musician.
Jamaica's Minister of Tourism of Entertainment Dr. Wykeham MCNeill hopes the statue
will serve as inspiration to youngsters trying to pursue their dreams.
"[Marley's] gift to Jamaica is incalculable. His achievements, and those of his fellow artistes
who have followed in his footsteps, have put our country on the map as the Mecca of
popular music. Today the tourism sector continues to attract hundreds of visitors who
come to see the country that produced Bob Marley.
"This new statue will doubtless attract even more visitors to our shores and to Trench
Town in particular. Of equal importance is the fact that its presence will serve to inspire
the youths in his old neighbourhood. It will encourage them to believe in themselves and
understand that they can achieve success despite perceived disadvantages."
Over the weekend, the icon's son Damian Marley headlined a free show in Kingston with
brothers Julian and Ky-Mani.
Marley died from 1981 after battling cancer. He was aged 36. His greatest hits include
One Love, Waiting In Vain and Redemption Song.