Yoruba movies lovers wilul agree that there are so many beautiful actresses
in the industry.But today,i am not focusing on the beauty,although it does not harm if they are.Today i am looking solely at the fashion Queens of Yoruba Movies.The actresses that you always look out for what they will wear next,with many fans admiring or copying their styles.We are looking at the beautiful clothes the actresses wear and their star quality.These are the film stars you will see in the Yoruba fashion Magazine.
So I have chosen 12 top Yoruba actresses who are fashionable and trend setters...you
might not agree
with my list,but that's what makes it fun..You can happily agree or disagree and leave a comment who should be in or out of the list if you wish to..so here goes,starting with No 12 on the fashion Queens of Yoruba movie industry.
No 12-Moyo Lawal.
Moyo starts my list at No 12.The actress is not afraid to wear daring and sexy things and you can always bet that anytime you come across a Moyo picture or see her at an event,she will be wearing an outfit that catches your eyes.Moyo Lawal is indeed a Yoruba movies fashion queen.
No 11-Fathia Balogun.
If we were talking strictly in terms of
beauty
,Fathia will be way high up on this list.It's hard to think Fathia is in her 40s.She always looks sexy and elegant anytime you see her socially.Her style is not on the risque tip,she is more laid back,elegant and glamorous.
Fathia
is one of the veterans of the current crop of Yoruba actresses.She carries herself with style and always excels both in local and English wear.She makes my No 11 list of fashion Yoruba Movies queens.
No 10-Biodun Okeowo.
Biodun aka Omo Butty
is an actress i love so much! First time i saw her on screen,i couldn't take my eyes off her.Beautiful,fashionable and a fantastic actress.She is one of those lucky actresses that gets to dress up on screen.Most of her characters are well dressed,so as a result,Okeowo is well dressed both on and off screen.Biodun surely is a fashion diva and she makes my No 10 list of Yoruba Movies fashion queens.
No 9-
Mosun Filani.
Mosun is one of those actresses that has that butter won't melt in their mouth look.She lights up the screen and looks beautiful in anything she wears.I have seen Mosun many times at events and in magazines and online,and i can honestly say she always looks stunning in anything she wears! But then again i am biased,cos Mosun Filani is one fashion queen that i love very much in the Yoruba Movies industry.
Mosun looking very regal.
No 8-
Liz Anjorin.
Ahh Miss
Controversy
herself,Liz.The petite actress is another actress who must spend a fortune on her wardrobe. I can honestly say i have never seen Liz in a wack outfit.She is always on point.Se has a lovely figure and always make sure that what she wears is figure hugging and complements that figure.Anjorin comes in at No 8 for my Yoruba actress fashion queen.
Funke Jennifer Akindele makes list of fashion queens in Yoruba films.
No 7-Funke Akindele.
There used to be a time when
Funke Jennifer Akindele
was not very good in the fashion stakes.She didn't catch your eyes with her outfits or what she portrays.But in the last 2 years,a sudden transformation has taken place with Funke.She is now a hot chick who wears fantastic outfits! In fact i think she should be way higher than No 7 on this list.Akindele's instagram page now a days is like a fashion magazine,she looks good and she wears it well.As we all know she is also a fantastic actress! Welcome to No 7 in the fashion queens of the Yoruba Movie industry Funke.
No 6-
Ibidapo Obe Bisi.
Another of my very favourite Yoruba actress,Ibidapo Obe.Tall elegant and very statuesque looking.She carries that height and body so well in all her outfits.I have never seen nothing look bad on her.Ibidapo , is one of those women who can make any outfit look good without making an effort.She is indeed a fashion queen in the
Nollywood
Yoruba Movie sector.
No5-
Sotayo Sobola.
Sotayo is relatively new in the Yoruba movie scene.In fact had she been around for a while,i would have put her in my top 2.Sotayo is nothing but a diva! Her fashion is very risky in the sense that she would try anything.She is not limited.She was the one who to my knowledge started the trend of ladies wearing agbada.She rocked that agbada so good that she must have had a few lesbian proposals after that outing! lol....Sotayo has many more years ahead of her as a fashion queen,and i am sure the
agbada for women
trend is not the only one she is going to be noted for over the coming years.
No
4-
Iyabo Ojo.
Iyabo is another risk taker.There is nothing this lady won't wear and she does not really care about your opinions! Iyabo loves her tattoos and piercings also.She is a trend setter,Blessed with a beautiful body that makes it easier for her to wear those risque outfits and show off what she's got.
A lovely actress as well,who can interpret many parts.Iyabo loves dressing up and you can tell.You hardly see her wear an outfit twice and this lady sure is one who likes to look good
.Iyabo,you
are a fashion queen in the Yoruba Movies industry.
No 3-
Bukky Wright
.
Now things are getting hot! The agesless and beautiful Bukky makes an entry at No 3.Bukky has been around for ever,and in all that time,one thing that has been constant apart from her acting skills and her ability to cry like she lost 1 million Naira and found 1 thousand Naira lol,is her fashion sense.
It is no wonder that Bukky delved into fashion business by owning a boutique.She always looks classy,elegant and stunning in whatever she wears.Bukky reminds me of Diana Ross,elegance personified..a very beautiful woman to look at.Bukky is a Yoruba Movie fashion queen no doubt!
No 2-
Mide Martins.
It was very tough choosing my top 2.In fact any of these two ladies could have easily been my top fashion queen.They are both beautiful and fantastic actors in the Yoruba films..yes,i did say actors,it wasn't a mistake.But i have settled for a couple of ladies who are friends on and off screen as well.Mide comes in at No 2.It is hard for me to see Mide and not remember her beautiful mother Funmi Martins,who left us at a very untimely period.Mide is another woman who you know would not leave the house without taking a look at the mirror a thousand times! She is beautiful and her outfits are always colourful and stunning! The mother of two girls,is constantly sharing new pictures with her fans on
instagram
.I think she feels she owes it to her fans to always look good.Mide is undoubtedly a fashion queen and a fashion diva of the Yoruba Movies industry.
No 1-
Mercy Aigbe.
And so ladies and gentlemen,finally arrive at the No 1 fashion queen of the Yoruba Movies industry.She is no one other than the beautiful and talented Mercy Aigbe!
What can i say about this woman? This woman is a walking fashion show! She always outdoes herself.I shudder to think what her wardrobe must looks like.This woman has uncountable beautiful outfits! She always looks good,native,English,jeans,shorts,anything,she kills it!
She is always smiling in her pictures,so she obviously has a happy personality,she wear her lovely dresses or outfits with a smile.I am sure people go to their tailors with a picture of Mercy and say,Madam pls this is what i want
.Luckily,Mercy has a boutique of her own
and she has a rich husband,so one way or the other,those outfits will keep coming in.If you go on her instagram
page and have something important to do,you will be late for it,cos there are just too many beautiful outfits of her to look at.
Madam, you are the undisputed fashion queen of the Yoruba Movies industry..bow and take your crown!
House...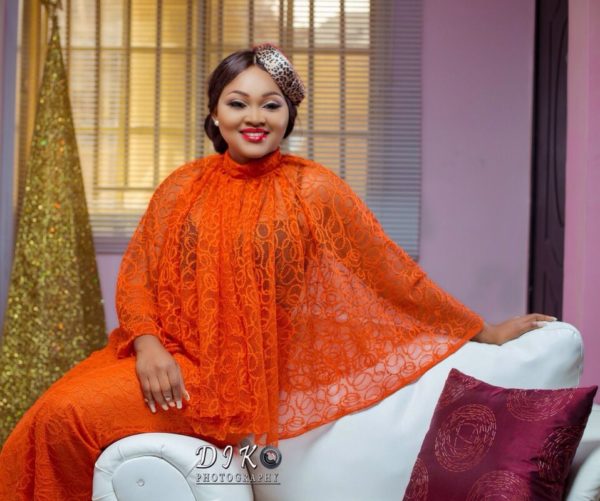 Mercy is NO 1 Fashion queen in Yoruba Movies.