Theresa May,is to become the new British prime minister by Wednesday.Here we look at Theresa May policies,and Theresa May Husband Philip May among other things.
The former UK's home secretary, will be the country's first female leader since the days of Margaret Thatcher. Her final rival for the Conservative Party leadership, Andrea Leadsom, withdrew from the race on Monday morning, citing overwhelming support for May among Conservative MPs. Prime Minister David Cameron then announced that he would formally resign by Wednesday,ushering May
into the top job.
May's tenure will not be easy. She'll be taking over at time of intense crisis: The Brexit referendum has thrown the UK into what one expert calls "its worst political crisis
since May 1940." It's not an exaggeration to say that May's tenure will shape the course of British and European history for the foreseeable future.
Understanding May — who she is, and what drives her — is critical to understanding the events that will unfold in the next months and years. So here's a quick guide to the next occupant of 10 Downing Street — where she's coming from politically, what she's said about Brexit, and why she may be facing an impossible dilemma as the UK's next leader.
Since May's election to Parliament in 1997, she's taken fairly liberal stances on a number of social issues. She made a name for herself in 2002, when she delivered a speech telling her fellow Conservatives that they need to stop being the "nasty party" in UK politics.
She's an avowed feminist: She led a fight to close the UK's gender wage gap in 2008 and frequently confronts sexist comments about her fondness for stylish shoes.
"To the extent that May's political credo is evident, she is a liberal Conservative," the Financial Times's George Parker and Helen Warrell wrote in a 2014 profile. She's "supportive of gender equality, champion of female representation at Westminster and a backer of gay marriage."
But her record doesn't always fit the "liberal" description: For instance, she twice voted against legalizing adoption by gay couples in the early 2000s. This is especially true when it comes to immigration.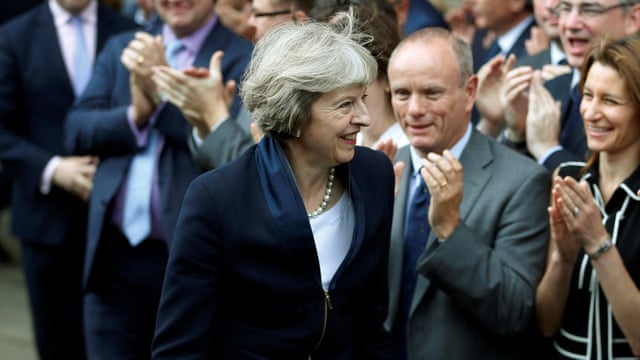 Since 2010, May has served as home secretary, the UK's top social and domestic Cabinet post. During her time in office, she has repeatedly expressed vociferous opposition to the UK's historically high immigration levels+++++.
"When immigration is too high, when the pace of change is too fast, it's impossible to build a cohesive society," she said in one 2015 speech. "It's difficult for schools and hospitals and core infrastructure like housing and transport to cope. And we know that for people in low-paid jobs, wages are forced down even further while some people are forced out of work altogether."
None of this is true — the data shows that immigrants haven't stressed the UK economy and in fact have contributed to its growth. But that hasn't stopped May from taking some fairly draconian steps to lower immigration.
Most infamously, May used her power as home secretary to impose a rule that would block skilled immigrants from permanently settling in the UK if they made less than £37,000 a year (roughly $53,000 at pre-Brexit exchange rates). Anyone who made less than that would be deported. May's own Home Office estimated that the rule could cost the British economy more than $200 million, but she went through with it anyway.
So inevitably,the spotlight was going to fall on the husband of the new Prime Minister of Britain.Philip John May and Theresa May got married in 1980,but that's not all there is to it.Lets find out more about the man who is behind the fiercely private, steely politician about to become the second ever female Prime Minister in British history.
They met at a Tory disco
Mr May was introduced to Ms May by Benazir Bhutto, a contemporary who later went on to become Pakistani Prime Minister and was assassinated in 2007. The pair met at a Conservative Party disco while both studying at Oxford University.
They quickly bonded over a shared fondness of cricket. He was two years her junior and the toast of the debating chamber while studying Modern History, according to accounts. They went on to get married on 6 September 1980.
He is a highly successful Banker
Mr May left university to embark on a successful career in the City. He was a fund manager at de Zoete & Bevan and Prudential Portfolio Managers UK and later Deutsche Asset Management UK. Since 2005, he has worked as a Relationship Manager at Capital Group.
Mr May was a constant, supportive presence after his wife's parents died and left her as an orphan in her mid-twenties. Her father Reverend Hubert Brasier died in a car crash and her mother died from multiple sclerosis just a year later.
Ms May has rarely talked about what happened to her but she did open up about her husband's "huge support" during an episode of Desert Island Discs. "That was very important for me. He was a real rock for me," she said.
Alicia Collinson, a close friend at Oxford, who learned of crash a good few years later, said: "It was dreadful... Theresa had Philip and Philip saw her through that. He was and remains her rock."
He is a "just a regular, nice guy"
A friend described Mr May as a "regular", intelligent man who knows Ms May better than anyone.
Theresa may and her husband Philip while together as a young couple in Oxford.
"Philip is really lovely," a friend told The Guardian. "He's just a regular, nice guy who's bright like she is. They still totally love each other and have a great friendship. He is good for her because he's aware she's home secretary but she's still just Theresa to him. They are not one of those couples where one of them is a big name and the other one quite likes it [the reflected glory]. That would never even come into his mind… When they're together, they seem younger."
She is known as the tough lady who took David Cameron through a battle field.So lets take a look at some of the policies of Britain's new iron lady.
Theresa May on… Brexit
Mrs May reluctantly supported the Remain camp, but she kept a low profile during the EU referendum

campaign.

In light of the referendum result, she has said: "I couldn't be clearer. Brexit means Brexit. And we're going to make a success of it."

She has ruled out the possibility of a second referendum but says that she will not embark on exit talks by triggering Article 50 until next year.

Mrs May has acknowledged that she is a "bloody difficult woman" - something that Ken Clarke said by mistake on Sky News last week.

The MP, who prides herself on being a tough negotiator, has said that the European Commission is "about to find out" how difficult she is.
Theresa May on… Immigration
As Home Secretary, Mrs May has failed to meet the Conservative's target of reducing immigration to the "tens of thousands".

But the politician doggedly tried to pursue the goal and set out a clear anti-immigration focus at the last Conservative Party conference.

As well as pledging to toughen up the asylum system, she said mass migration was putting unsustainable pressure on public services.
Theresa May on… Gay rights
In her leadership launch, Mrs May said that the introduction of same-sex marriage was one of the Government's biggest achievements.

She said: "We have shown that when the Conservatives have an open, inclusive, One Nation agenda of social reform, we win elections – and we change the country for the better."

Despite strong support for gay marriage, Mrs May voted against earlier reforms such as an equal age of consent in 1998 and same-sex adoptions in 2002.
Theresa May on… Women's rights
In a speech in Birmingham today, Mrs May set out her priorities by highlighting inequalities such as the fact that "if you're a woman, you still earn less than a man".

The former minister for women and equalities has focused on tackling violence against women as Home Secretary.

Mrs May has previously stated that her "personal view" is that the legal limit for abortions should be cut from 24 to 20 weeks.
Theresa May on… Economy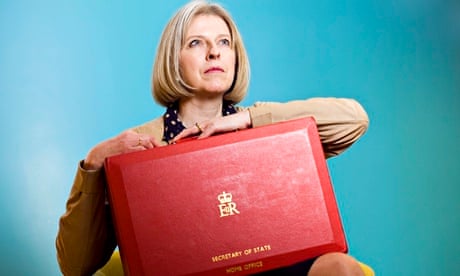 Mrs May today pledged to put the Conservative Party at the "service of working people", not the privileged few.

She promised to change the way that big businesses are governed with plans to put worker representatives on all main company boards and tighten control on executive pay.

The female politician plans to crack down on tax evasion and insisted that support for enterprise does not mean "anything goes" in the City.

In the past she has generally voted against spending public money to create guaranteed jobs for young people who have spent a long time unemployed.