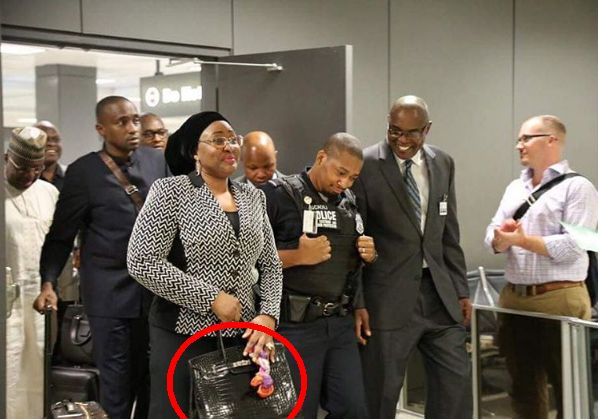 Aisha Buhari in America was always going to create a talking point.Why?Because the opposition led by Governor Ayo Fayose had claimed that Aisha could not step into America because she was wanted in connection to a money laundering case involving a US congressman.But nobody expected another angle to Aisha Buhari's American trip to develop.And this time it is regarding an alleged Hermes bag she carried on the trip said to be worth a whopping $69,000 and $89,000, that's between N26,910,000 and N34,710,000 using the N390 to N1 dollar black market exchange rate!
First lady,

Aisha Buhari

was spotted with the Hermes Birkin 35cm Porosus Crocodile
bag and it's got many people talking.Looks like the knives are out for her no matter what.
But my take is this,Aisha and her husband have barely been in the hot seat for a year.I seriously don't believe this bag was acquired through dubious or corruption means.I will not be surprised if that bag was a gift.
And a lady of her status can very well afford this bag anyway,its only if she has 10 of those that you start wondering what the hell is going on.If she has invested in just one or two..its all well and good.
See more reactions and pictures below of the Hermes bag that Aisha Buhari was seen with in America below..