Dame Patience Jonathan also known as Mama Peace is one of Nigeria's most popular first ladies.Here we learn more about her in the Patience Jonathan biography.She was born 25 October 1957
in Port Harcourt, she
was the former First Lady of Nigeria and a permanent secretary in her native Bayelsa state. She is married to ex President of the Federal Republic of Nigeria, Goodluck Jonathan.
Patience Jonathan educational background tells us she earned her school certificate in 1976, and passed the West African Senior School Certificate Examination (WASSCE) in 1980. In 1989, she obtained the National Certificate of Education (NCE) in Mathematics and Biology from the Rivers State College of Arts and Science, Port Harcourt. She then proceeded to the University of Port Harcourt and studied Biology and Psychology. Patience
Jonathan started her career as a teacher at the Stella Maris College, Port Harcourt and Sports Institute Isake.
She then moved to the banking sector in 1997, where she established the first community bank in Port Harcourt called the Akpo Community Bank. She served as Marketing Manager of Imiete Community Bank. She returned to the classroom briefly again as teacher. Eventually she was transferred to the Bayelsa State Ministry of Education, where she served until 29 May 1999 when her husband became the Deputy Governor of the state. On 12 July 2012, she became a permanent secretary in her native Bayelsa state. She and her husband have two children.
According to Baridah Job Karabah, a former houseboy, her nickname back in the days was 'Mama Ice Cream' (and that of the President was simply 'Oga Joe' ). Ice cream ke? Yes, and that was because she used to cool (abi na freeze...lol) ice cream in her large deep freezers. The ice cream is then later distributed for sale. He says business was 'booming' for her then. President Jonathan was at that time, a senior lecturer at the Rivers State College of Education. And yes, she had a poultry too at the same time. Quite industrious I'd say.
On how she met her husband Goodluck Ebele Jonathan,she said..
'We first met at the Rivers State College of Education, Port Harcourt where I was a student. He was my Biology lecturer.Later; he left for university of Port Harcourt to pursue his PhD.
We met again at the University of Port Harcourt when I went for undergraduate degree. That was where our relationship began. He took interest in me because I was a brilliant and smart student.
It was love at first sight on his part. But it never crossed my mind that it would lead to a serious relationship. My first impression of him was 'this tall, dark, hansome young man".
Further interaction with him also revealed that he came from a good Christian home just like I did. His humble and gentle disposition caught my attention and most importantly, his intelligence.''
And it looks like that love is still going strong as Mama Peace reveals she still cooks for her husband and even goes to Utako Market to buy ingredients for soup.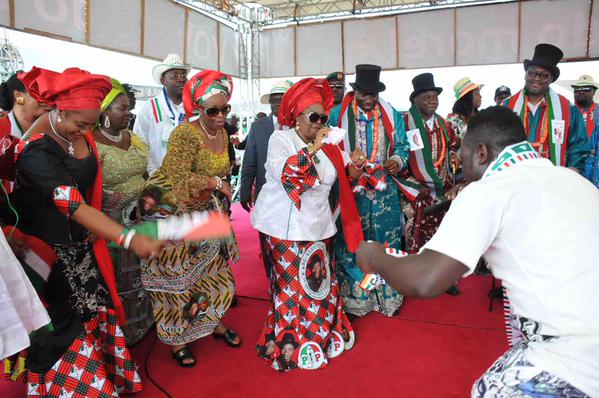 Here are some of the titles held by Mama Peace-

Odadigba of Otuoke Kingdom, meaning the Ladder of Success.
-Unume Wheshi Ekpeye 1 of Ekpeye Kingdom in Rivers State.
-Yeye Obateru of Owu Kingdom, Ogun State, means the Wife of He Who Shares the King's Burden.
-Yeye Ohun Orun of the Source of Ife Kingdom, Osun State, meaning the Wife of the Voice of the Heavens.
-Ada Di Oha Mma of Ukpo Kingdom (Daughter of the People of Ukpo).
Okay, I think that is enough for now.
The Philanthropic work of Patience Jonathan has been recognized locally, nationally and internationally. She received the "Beyond The Tears" International Humanitarian Award New York, USA, in 2008, for her role in the global fight against HIV/AIDS; the African Goodwill Ambassador Award (Los Angeles, USA, 2008) and the recipient of the "Wind of Change" Award from the South/South Women's Organization.
When Goodluck Jonathan served as Governor between 2005 and 2007, Patience Jonathan served the state in the capacity of the first Lady of Bayelsa State. During this period, she founded many philanthropic and women empowerment programs, among them are the A-Aruere Reachout Foundation (AARF), which she set up to improve the status and earning capacity of Nigerian women and youths. The foundation already has its focus on supporting and assisting children with heart-related problems.
Like others before her, she also has a non-governmental organization, named the A. Aruera Reachout Foundation and is said to focus on the needy, the poor and the destitute, with particular emphasis on women and children. According to the Foundation, it has trained over 2,000 women in the last eight years. Some of the things her Foundation also did was to foot the N1.8 million naira bill for an operation in India for a girl with a hole in the heart (septal defect) and Jubril Mohammed Hussein, a 9-year-old boy who was also flown out for treatment for his heart disease. Zainab Musa Garba, a twin, was diagnosed with a heart condition and needed N3 million naira for treatment, the Dame also footed her bills. Zainab's mother teaches at the Federal Government College, Maiduguri while the dad is a retired civil servant. That's a good one or what do you think? Same goes for Tobi Peters, an 11-year-old boy, three-month-old Peculiar Owodu and others (now over 30 kids).
The ex first lady is a strong woman who is not shy in expressing her self.Many have said she was the driving force behind Goodluck Jonathan when he was president.Nigerians have found her amusing in some of her quotes which she became infamous for.
Here we take a look at some of the most memorable Patience Jonathan quotes.
1. My husband and Sambo is a good people.
2. The President was once a child and the
Senators were once a children.
3. My fellow widows.
4. A good mother takes care of his children.
5. The people sitting before you were once
a children.
6. Yes we are all happy for the effort,, it is
not easy to carry second in an
International competition like this one,
(addressing press men after Female Under-19
FIFA World Cup).
7. The bombers who born them? Wasn't it not
a woman? They were once a children now a
adult now they are bombing women and
children making some children a widow.
8. My heart feels sorry for these children who
have become widows for loosing their parents
for one reason or another.
9. We should have love for our fellow
Nigerians irrespective of their NATIONALITY.
10. Thank God the Doctors and Nurses
are responding to treatment.
11. I would rather kill myself instead of
committing suicide.
12. Ojukwu is a great man, he died but
his manhood lives on.
13) Chai! Chai! There is God o… there's God in
everything we are doing, continue!
14) Na only you waka come?
15) Vote UMBLERRA and press your finger for
UMBLERRA.
The matter of Dame Patience Jonathan biological children is clouded with a bit of mystery.It has been said that the couple have none and that their children are

adopted.Jonathan and his wife Patience have two children: a son named Ariweri Adolphus and a daughter named Aruabi. It is speculated that they were adopted from a motherless babies home, either in Lagos or Port Harcourt.

He has been said to have two biological children as well- Apparently, Goodluck's "alliance" with a law student at Rivers State University led to the production of two biological children for Goodluck. This all took place allegedly before his entrance into the political realm, but during his marriage to First Lady Dame Patience. "Credible sources" abound on gossip blogs over the issue, but it's pretty hard to find some solid fact.
So there you have it,we hope you enjoyed this write up and know just a little bit much more about the lovable,controversial and entertaining Mama Peace,ex Nigeria's first lady.