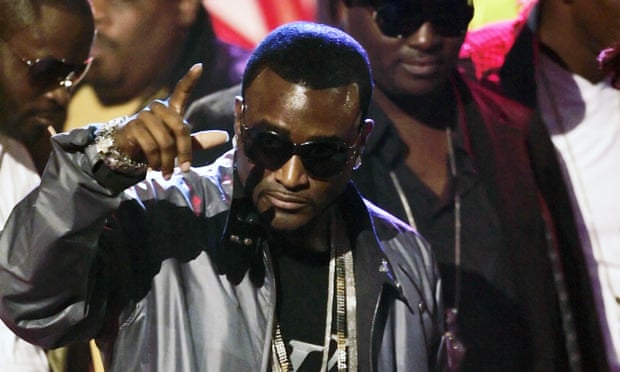 Rapper Shawty Low death is one of the most painful and shocking news this year.Yet another entertainer has died needlessly.The details of Shawty's death has not been released yet,but we know Shawty was killed in a car crash after leaving a strip joint.
I pray no news comes out that he had been drinking or something of sort,cos that would be really sad.But the fact that no other car was involved suggests Shawty was either speeding or might have endangered himself if the rumours that he was not wearing a seat belt are true.
Fulton County police say the crash happened around 2:20 a.m. when the 2016 Audi that Walker was driving crashed over a guardrail, hit several trees and caught fire at the Cascade Road exit.
Carlos Walker, also known as Atlanta rapper Shawty Lo had a love for cars as he has quite a few in his collection.The police department says the 40-year-old was ejected and died at the scene. Two women in the car were injured and taken to a hospital with non life-threatening injuries.
The rapper's manager confirmed the news and Shawty Lo's Twitter account put out a statement.
Like i said earlier,the question how did Shawty Lo die cannot be fully answered presently.After initially describing the crash as a hit-and-run, "it has been confirmed now that it was a single car accident," Fulton police spokeswoman Cpl. Maureen Smith said.
The rapper formed the hip hop group D4L with fellow Atlanta rappers Fabo, Mook-B and Stoney. The group released the popular songs "Betcha Can't Do It Like Me" and "Laffy Taffy."
He was born in Moultrie, Georgia in 1976.
His friend broke down in tears when he explained he invited the rapper to hang out with him Tuesday night.
"I called him and asked him to come out, you know? And he came out and my buddy didn't go back home, you know?" Shawty Lo's friend said.
Shawty Lo children and some of his baby Mamas.


It's the Shawty Lo kids i really feel sorry for.What's going to happen to those poor kids?All 11 of them have lost a father at a very very young age of 40.I just hope there will be enough money in his estate to safeguard the future of those kids.But what are the chances of that when there are 10 baby mama's who will be fighting for the future of their children?How do you even start to fix that?
Shawty Lo made news in 2013 when the Oxygen network announced plans for a special about his blended family, which includes 11 children with 10 women. After outrage and online petitions, the special entitled "All My Babies' Mamas" was scrapped before it even aired.
Shawty told
MTV News
: "You can hate all you want to, I didn't ask for it. It just happened. Now that it happened, I'm supposed to turn my back against it? If I wasn't taking care of my kids then you would really dog me out, but I'm taking care of my kids, providing for my family. I don't know what else to say."



The

Shawty Lo car accident

and death has left many broken hearts as artists, neighbors, childhood friends and family gathered along Donald Lee Hollowell with the sound of Shawty Lo's music blasting through the doors of the ORG studio.
His death has made national news, but there's only one place where you'll find people who truly knew Shawty Lo.
"We just stunned right now," D4L co-founder Marcus Smith said. "The community is just stunned."
Shawty Lo is memorialized in so many personal ways once you cross into Donald Lee Hollowell.
"And for him to leave today?" friend Shawn Robinson asked. "I'm crushed. It's hard. It's very hard for me. And everybody just left Yung Joc party last night, you understand me?"
On every corner, you'd find people mourning the loss of the 40-year-old who rose to fame in the early 2000s, but never became a stranger to this neighborhood.
"They really looked up to him, especially if you could be one of the ones that make it out," friend Dontavius Dowell said.
"Thanksgiving, Christmas. People needed a lot of things and he came out of his own pocket and gave," Smith said.
Outside the ORG studio off Donald Lee Hollowell, one of Shawty Lo's 11 children stepped out to speak with us.
"We trying to strong, but we can't. You know, we can't bring him back, but he in a better place, though," son Michael Robinson said.
The two unidentified female passenger are being treated at Grady as the cause of the accident remains under investigation.
Channel 2 Action News has not heard anything about funeral arrangements at this poin
t.