Computing technology:An entirely new category of computing technology, wearable devices, is like nothing that has come before it. These devices don't necessarily have memory, processors or sometimes even screens, but they are every bit as much a computer as a laptop or PC, crunching personal data and communicating wirelessly with other gadgets.
Just as shopping for a computer can raise all sorts of questions, so can finding the right wearable. Use these questions and answers to find the device that best fits your lifestyle.
Will it look like I'm wearing a computer?
Technology is at its best when it blends in, allowing us to perform a function rather than dominating a room (or in this case, a wrist). And while some might like the look of flashing lights and bright screens, for the most part, people prefer their wearables to be subtle fashion statements.
This is something that Jawbone has thought about since releasing its first Bluetooth headset back in
2006, says Keely Sulprizio, the company's head of communications. "They have to be small, comfortable, have a long battery life and really be designed for everyday life," she says. "Those are the same things we keep in mind when we design for the wrist."
As a result, activity trackers like the Jawbone UP, which is made to be worn all day, every day, has no screen. Instead, it has two small LEDs and a vibrating motor to provide status and notifications; all of the device's other functions are performed through its accompanying smartphone app.
Do I need to have a computer or a smartphone if I want to use a wearable device?
There is a wearable for every user, whether you want to pair it with a smartphone, computer or nothing at all. For instance, the Jawbone UP requires users to pair the device with an iOS or Android smartphone via Bluetooth. Samsung Gear smart watches also require smartphones, but that's because they are designed to augment Samsung handsets, making it easier for users to access the apps loaded onto the phone.
Meanwhile, other fitness trackers work with computers connecting directly to PCs via USB and/or with smartphones (like the Moto 360) wirelessly with Bluetooth.
But if you'd prefer to sync your data with nothing at all, sparsely-featured trackers, like the Fitbit Zip, can sync with computers and phones, or simply work as standalone devices. Before you buy, explore which if any syncing method a wearable requires, and make sure it works with the equipment you already have.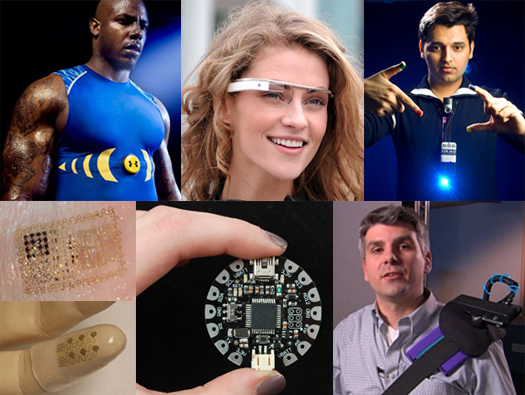 How often do I have to recharge wearable devices?
Every fitness tracker and smart watch is different, from its core features to its underlying technology; so, this question is a difficult one to answer. Battery sizes and charging techniques vary, so the key is finding a wearable that works for your lifestyle. Journalist and author, Kayt Sukel, travels frequently, so she had a unique requirement when buying a wearable device to track her daily activity levels. "If I didn't have my computer with me for a few days, I might not be able to charge it," says Sukel, who chose the Fitbit Zip, because of its replaceable "button" watch battery that can last up to six months.
Despite having an always-on display, heart rate monitor and sleep sensors, the Garmin Vivofit has a battery that lasts longer than a year. Meanwhile, smart watches, like the Samsung Gear, last 24 hours and come with a charging dock to refresh their batteries, something that can easily be done each night, as you would for a cell phone, or on a desktop every afternoon.
Do I have to share my results with my friends?
Social networks may make it seem like you have to share every bit of data with friends, but that's not the case. Still, even though wearables are very personal items, sometimes it's a good idea to share the data they generate with close friends, especially for fitness trackers.
"We've found that people with at least three friends take at least 1,000 more steps a day on average, which is really significant," says Sulprizio.
Sukel found out that was the case first-hand, because she could see the progress her friends were making and it motivated her to beat them. "Exercising this morning, I was taunting my friend Sue, because I was above her by 5,000 steps, and therefore guilt-tripping her into getting up and getting off the couch," she says. "They have buttons for the Fitbit that let you cheer or taunt the other person."
In fact, Sukel says she is not the kind of person who goes to the gym with a partner or wants a workout buddy. "I find the competition and social aspect of being able to compete with friends who are literally on the other side of the country to be really motivating," she says.
Will my personal data be safe?
In a world where privacy is increasingly a concern, it's natural to ask this question. "Our view is that a user's data belongs to them," says Sulprizio. "We are just stewards of that data. All of your data belongs to you. It's all tied to your account, and it's something that you can request to be deleted at any time."
That said, using the services tied into Jawbone UP and other similar products like Fitbit trackers gives you remarkable insight, not just into your own health, but into trends worldwide. For instance, after a recent earthquake in California, Jawbone determined that most UP wearers in Napa Valley, the epicentre of the event, woke up. Meanwhile, farther away in San Francisco, only 50 per cent of people were roused. By lending your data to research like this, everyone benefits from the insights generated.
Seeking answers and eliminating the barriers to using wearables can free you up to focus on the important questions of how to better improve your health and connect with the world. More questions will arise, they always do, but these answers should set you on a path to enhancing your life through wearable technology.
Copyright PUNCH.
All rights reserved. This material, and other digital content on this website, may not be reproduced, published, broadcast, rewritten or redistributed in whole or in part without prior express written permission from PUNCH.
Contact: editor@punchng.com