Jose Mourinho has accused Antonio Conte of humiliating him during the Chelsea Manchester United game that ended in 4-0 to the Londoners.Mourinho had gone to the Chelsea manager and said some things in his ear after the match which Italian Tv has picked up on.Everybody had been wondering "what did Mourinho say to Conte"?Well now we know.
Mourinho, speaking in Italian, appeared to tell Conte he should behave like that "at 1-0, not
at 4-0", and suggested he had actually been seeking to humiliate him in front of his former fans. Conte denied that had been his motivation, explaining post‑match that he had simply been seeking to generate a positive reaction from the crowd after his team's most impressive performance to date under his stewardship. However, when a member of the United coaching staff ignored Conte's outstretched hand as they turned to retreat down the tunnel, it provoked a heated argument with a member of the Italian's own back-room team.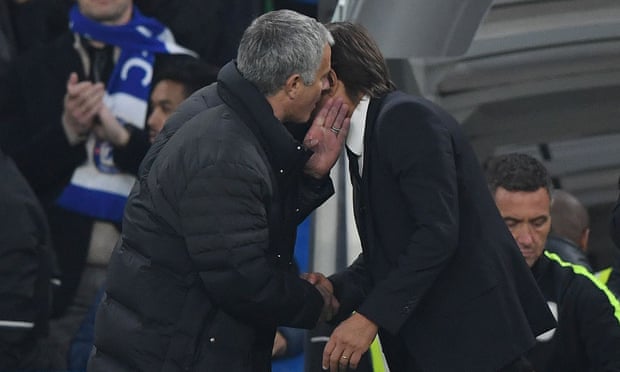 Both managers chose not to elaborate on their post-match conversation to the media, but neither denied the version of events, picked up on Italian television, when it was put to them. "I think that a private conversation must remain private," Conte said. "If someone discover something, OK ... but for me the private conversation remains private.
"I think that, today, it was right to call on our fans in a moment when I could only hear the supporters of Manchester United [singing] at 4-0. So I called the fans to give the players a great clap after this kind of performance. The players deserved that.
To be fair,i am a Manchester United fan and i do believe the version of Conte.The Chelsea fans had been quiet and the manager seemed to have been simply telling them to show more support and appreciation for their team's great performance.
Sure there is nothing wrong with that is it?It is hard for a man like Mourinho with his ego to lose the way his team did.So understandably he was feeling sensitive and reading meaning in to things.Awww poor Jose.But one thing you can be sure of is,the next match between
Chelsea and Manchester United is going to be a brutal one.