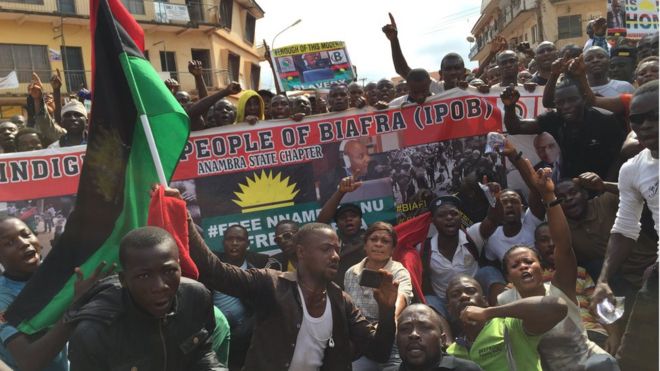 Somebody wake me up..i must be dreaming.Saw this report by Vanguard where a certain Benjamin Onwuka says he is the leader of a Pro Biafra group and they were responsible for the attack on the state house in Enugu.Not only that,they have given an April 1st ultimatum for Nigeria to vacate Biafra territory! How can anyone have the audacity to have a news conference publicly uttering this trash? It has to be some kind of April fool..and if it was,the Vanguard should be seriously called to book and even shut down for a period of time.You should not joke with rubbish like this.But i guess it won't happen.Because the Vanguard or the Pro Biafra group must have known they live in a lawless country! Here's the gist of the briefing with the newsmen
ENUGU—Leader of the pro-Biafra group, Biafra Zionist Movement, BZM, Barrister Benjamin Onwuka has claimed responsibility for last Saturday's invasion of Enugu State Government
House saying members of his group took control of the Enugu State seat of power for about four hours after they successfully hoisted the flag of the Republic of Biafra and some banners at the main gate.
He briefed newsmen at the Nigeria Union of Journalists, NUJ, Press Centre, Enugu, Wednesday morning , where he claimed responsibility for the invasion, which he said was primarily to reclaim the old headquarters of the former Biafra Republic.
Onwuka dismissed speculations that the group was sponsored by some politicians in Enugu State explaining that the major target of the BZM members was to hoist the Biafran flag as a symbol of rebirth of the defunct Biafra Republic.
He said that members of the group who were not armed, were in the Government House from 3 am to 7am before soldiers dislodged them, insisting that they accomplished their mission.
He, however, warned that Nigeria should vacate the Biafra territory before March 31, 2014 or risk a bloody war, disclosing that his group had concluded plans to take over total control of Biafra land from April 1.