Kelechi Iheanacho wants £150,000 a week from Manchester City

! The Nigerian and Manchester City striker is reportedly demanding for £150,000 a week after a successful seaso

n of scoring

goals

for the Sky Blues Citizens team of Manchester.If this report is true,then this is exactly what is wrong with football and society in general today.In fairness,i doubt if this is totally Kelechi's doing.It's those greedy agents behind the scenes who keep pushing these young men into the wrong decisions just so they can make more

money for themselves with little thought about the players long term career.

Kelechi Iheanacho weekly salary

.Yes,the teenage striker has scored more goals for the Blues this season than last summer's £49m buy

Raheem Sterling

and £28m 2014 signing

Wilfried Bony

.But those two players have done their time.They didn't demand mega money for themselves after one season in the

English premier league

.
The striker's advisers believe he has earned parity - at least - with team-mate Raheem Sterling, on the basis that Iheanacho's emergence has saved the Blues from having to spend big on a new young front man this summer.
They also feel rising-star Iheanacho has proven himself superior to Wilfried Bony , who has flopped since his £28million move to the Etihad from Swansea 17 months ago.
City fully recognise £15,000-a-week Iheanacho's value and are set to reward him with a vastly-improved deal once a contract wrangle over who represents him is resolved.
Raheem Sterling was a sensation for Liverpool for close to three years.He has done it on the international scene for England.He has been to the world cup.Bony on his path single handedly kept Swansea City Fc in the premiership and has played in many big games for Ivory Coast as also at the world cup
So Kelechi Iheanacho and his advisers can't say just cos he has had a decent first season(in which he is not even a first teamer)he wants to be on the same salary as Bony and Sterling and earn £150,000 a week.Absolutely ridiculous!He should be looking to playing next season as a first team regular and bettering his record of this season.Then he can ask for the world and be given it.
If at 19,you are already worried and concerned about money £150,000 a week when you should be concerned more about being the best you could be,its a very worrying thought.
Iheanacho has graduated to the first team and scored 13 goals so far in this his debut senior campaign.
England international Sterling , who signed from Liverpool for a package totalling £49million last summer, has netted 11 times in his first season with the Mancunian Blues.
Bony, who earns £100,000-a-week plus a £20,000-per-game bonus, has managed only eight goals this season and a total of ten in all competitions since being signed in January last year.
Many of Iheanacho's scores have come off the bench, which means he already has one of the best goals per minutes ratios in Europe.
He was among the goals on the way to City's Capital One Cup final win in February.
The 19-year-old has also played in both legs of their Champions League semi-final loss to Real Madrid.
City are waiting for the outcome of a complaint over his representation that has been lodged with the FA before they can enter negotiations over a new deal.
United States-based First Eleven Management have represented Iheanacho since he was a schoolboy and advised him over his move to the Etihad in January 2014.
They say the youngster signed a new representation agreement when he turned 18, but London-based Stellar Group say they are his new advisers.
City beat Arsenal to the signing of Iheanacho from Nigeria's Taye Academy two years ago.
Now a full Super Eagles of Nigeria international, he is set to be a big part of new boss Pep Guardiola's plans next season.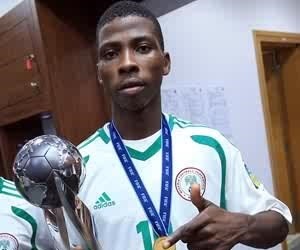 Kelechi with his awards at the U 17 world cup which Nigeria won.
Kelechi Iheanacho Biography.
Kelechi Promise Iheanacho

(born 3 October 1996) is a Nigerian professional

footballer

who plays for

Premier League

club

Manchester City

and the

Nigerian national football team

. He has made appearances for Manchester City U-21 team,

as well as the Nigeria squad that won the

2013 FIFA U-17 World Cup

and the

Nigeria U-20

team at the

2015 FIFA U-20 World Cup

.

Iheanacho was called up to the Manchester City senior squad for the 2015–16 season.
Iheanacho was born in Imo State Nigeria.

.

As a youth he represented Taye Academy in

Owerri. His performances for Nigeria in the 2013 FIFA U-17 World Cup

led to interest from clubs in Europe. Teams following his progress included

Arsenal

,

Sporting Clube de Portugal

and

Porto

.

In December 2012 Iheanacho travelled to England to discuss a move to

Manchester City

. He signed a pre-contract agreement with the club, stating his intent to formally sign for Manchester City on his 17th birthday in October 2014.

In the interim, he returned to Nigeria. As the year drew to a close, the

Confederation of African Football

named him the Most Promising Talent of the Year for 2013 at the

CAF Awards

.