Small Doctor singer beaten up.You might know the popular Nigerian musician Small Doctor who has songs such as Gbera,Mosquito killer,Igboro and Oyinbo.Some Agege, Lagos State, residents recently threw caution to the wind by descending on one of their own. He was allegedly beaten up for
failing to give them money after his performance at an event at the Agege stadium.
The fans had allegedly insisted on collecting some money from Small Doctor, but as a street boy also from Agege, he allegedly refused. The argument soon degenerated into fisticuffs which led to him being given the beating of his life.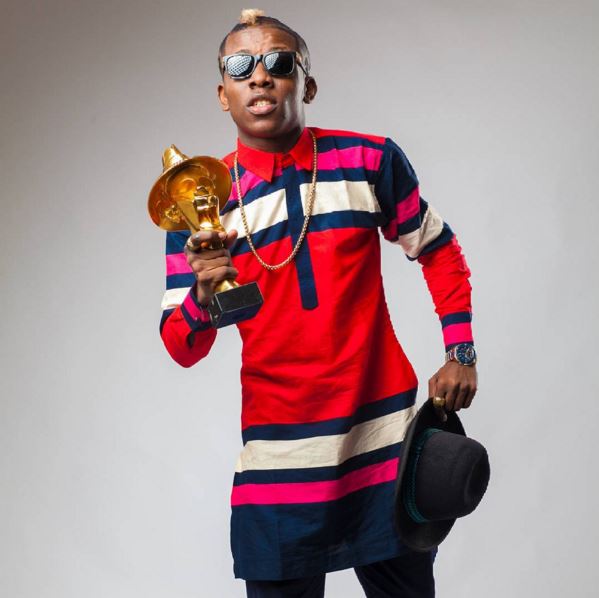 The security men on duty couldn't help much as Small Doctor was overpowered and manhandled with his jewelries snatched. According to reportnaija, despite his swollen face, the situation was only brought under control after he parted with some cash
It is not the first time the rapper had been beaten up though.In a revelation that will not be out of place in a Small Doctor biography movie,he revealed in an emotional post on his son's birthday how he struggled to feed and send his son to school.He revealed he was so poor that for 11 months he left the boy who was seven then alone at home in the night while he worked.
His bike that he used for work was stolen and life became grim for father and son.One night he went stealing,was caught and was beaten mercilessly.On getting home he lied to his son that he fell off a bike and that was why he was bruised and all his clothes torn...Read the experience below in Small Doctor's own words as he posted on social media.
"Hapi Birthday SON@iam_littledoctor ... Abdul-Sodeeq TemitopeOluwa Alao. Little Can The WORLD Know About You. Thank You For Making Me Strive More. GOD Bless You For Making Me Find Myself. This Boi At The Age Of Seven (7) Do Sleep Home Alone Back Then While I Engaged In A Whole Night Job For Close To Eleven (11) Months. Myself, Dis Boi And My Pet Slept In Buses Around Agege For A Very Long Period, We Kept Our Cloths In Condemned Fridge's. I Remember When They Stole My Bikes In The Studio, Which Was Our Only Source Of Income, It Got To An Extent I Couldn't Afford Your Feeding Talkless Of Paying Your School Fees, During Those Times You Stay Indoor During School Hours For People Not To Keep Asking Why You Are Not In School, You Also Pretend You Have Eaten All The Food Meant For The World Whereas You Have Not Tasted Anything, Just Because You Won't Want Anybody Notice There Was Something Wrong. Thank GOD For That One Word You Said To Me The Day You Woke Up At Midnight Just To See Me Crying (i will neva forget). Star Boi I Wanna Confess Today Your Birthday And I Also Plead For Forgiveness For One Day I Lied To You. It Was The Day I Came Home At Night With Bruises And Wounds With My Cloths Torn, You Asked Me What Happened But I Lied To You That I Fell From Bike. Son It Wasn't True." The Fact Is I Went Stealing And I Got Caught". I'm Sorry Boi. Once Again I Say Happy Birthday Son. I'm Sorry Star Boi.... PLEASE MAKE ME PROUD SON.. Go Into The WORLD And PROSPER... GOD BLESS YOU... iyanu MASHELE SOONEST ✍✅. @iam_littledoctor .
Rapper Small Doctor and his lookalike son.