Chris Brown standoff.So there was some fun at Chris Brown's house today when a Miss California Regional 2016 lady Baylee Curran, reported that he pulled a gun on her at his home. The police then surrounded Chris' home, with helicopters flying around his house. They claim he barricaded himself at his home and refused to surrender. The stand-off then went on for hours. Chris had refused to leave his home and without a search warrant or Chris' permission, the police couldn't enter his house. A SWAT team arrived his home.
Now the crazy thing is this was just an accusation.The lady did not say she was being held
hostage.She said he pointed a gun at her.She had left the house ,so why would the police need a SWAT team in response?Would they have done this to a white entertainer?Especially when the lady was a visitor in Chris' house and said herself that she had been admiring a guests diamond jewellery?NO.
Why didn't the police for once think she might really have been trying to steal the diamond?The whole Chris Brown arrest thing just stinks.He doesn't help himself with the company he keeps though,and you could tell from the videos he posted he was out of his mind.But a lot of people are out of their minds in the privacy of their homes and not arrested or visited by helicopters and a SWAT team.
In one of the videos that Chris Brown posted on instagram,he said many times he had called the police in the past to report intruders and stalkers and that he feared for his life,they never showed up on those days he called but showed up on the second day.But in this case,a white woman makes an allegation and the police show up with helicopters and SWAT team?Damn!
Read how TMZ is reporting the whole drama below...
Chris Brown is a suspect in a criminal assault investigation after a woman called 911 and told cops ... he threatened her with a gun ... TMZ has learned. The alleged incident went down early Tuesday morning in L.A. We're told Chris and the woman were in a home when she claims they argued and he pulled the gun.

Chris Brown gun.The woman called 911 and police responded and took a report. We're told the case is under investigation and Chris is the sole suspect.
7:55 AM PT
-- TMZ has learned Chris was in the house with several friends, including
Ray J
. They were talking and at one point Ray was getting a tattoo when some "uninvited guests" appeared inside the house and were asked to leave.
At that point, the story gets murky. The guests included a man who was invited, and two women who were not -- one of the women who'd been asked to leave is the one who made the police report, claiming Brown pulled the gun on her. Someone inside the house insists Chris was asleep the whole time.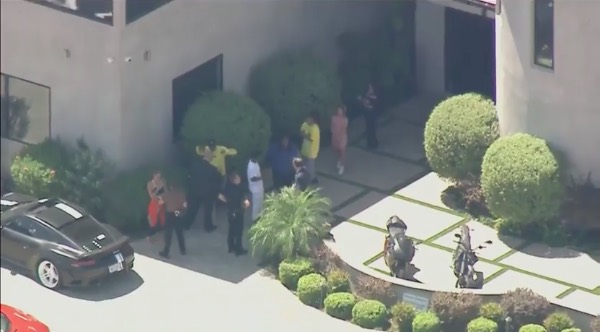 At some point Ray J left the house and when he got to the base of the driveway, police handcuffed him and seized his BMW. They checked his ID, uncuffed him and let him go, but kept his car as evidence. He Ubered home.
At the time of this post, Chris is still in the house. He never left. Police are knocking on the door, but no one inside is responding. We don't know what police will do if he tries to leave.
8:45 AM PT
-- We've learned the SWAT team is on its way to Chris' home and the LAPD is in the process of obtaining a search warrant. We're told cops want to see if a gun matching the description from the woman is in the house. As of now, Chris has not left his residence.
9:20 AM PT --
Chris is finally awake and posting videos. He's pissed about the police presence at his house and feels he's being harassed. He even dropped a "F*** tha police!"
The cops are still outside.
9:40 AM PT -- Police say they are still trying to make contact with Chris.
Update 2
The woman who called the cops on Chris Brown says the singer pulled a gun on her because she was admiring a piece of jewelry ... and afterwards his people demanded she sign a non-disclosure agreement.
Baylee Curran appeared on "TMZ Live" and said she had partied with Chris in the past and he was always nice, but this time he appeared to be out of it ... on drugs or alcohol.
She says she came to his house with a friend, spent a little time in the hot tub, and then walked back inside where a member of Chris' crew was displaying a piece of jewelry. Baylee says when she admired it the guy went nuts, and then Chris followed suit by demanding she "get the f*** out" and pointed a gun at her.
The craziest part ... as she tried to leave she says Chris' people wouldn't let her take her cell phone until she signed a non-disclosure agreement. She refused to sign, and she and her friend left.
TMZ broke the story ... Baylee, Miss California Regional 2016, called 911 and that started the standoff with Chris.
Law enforcement sources tell us Chris is about to get arrested.
Police have retrieved at least one gun, other weapons and drugs from Chris Brown's home, after Chris threw a duffel bag out the window of his home ... TMZ has learned.
TMZ broke the story ... cops raced to Chris' home early Tuesday morning after a woman called 911 and claimed he pulled a gun on her.
Police have been at the house since 3 AM and are in the process of getting a search warrant. Chris has not left the house, but multiple sources tell us he was defiant as he threw the duffel bag out the window, taunting cops and saying, "Come and get me."
Chris posted a video in which he refers to Black Lives Matter, saying "f*** the police."
Two sources on scene tells us in addition to weapons there were drugs in the duffel bag. As for the woman who called 911 ... she's a beauty pageant title holder.
11:11 AM PT -- We're live streaming outside Chris' house ... where police are waiting for him to surrender.
12:30 PM PT -- Chris' attorney Mark Geragos just arrived entered the house. We're expecting Chris to surrender sometime soon.
12:49 PM PT -- Chris' entourage has started filing out of the house. They're all lining up outside the front door with cops checking them for weapons. Still no sign of Chris yet.
At the same time ... police are holding a news conference at the base of Chris' driveway.

Meanwhile as expected,some details have come out regarding the former Miss California who called 911 and accused Chris Brown of pointing a gun at her head. Well, it's now been revealed that she's a suspect and wanted in NYC for questioning in a theft at a hotel. TMZ reports below...

Baylee Curran speaks and some celebs slam her
The woman claiming Chris Brown pulled a gun on her is wanted in NYC for questioning in connection with criminal theft ... for allegedly stealing a fancy designer purse at a swanky hotel.

The incident could be significant in the Chris Brown case, because alleged victim
Baylee Curran
claims a certain piece of jewelry that caught her eye triggered the events that led to her 911 call.
Baylee was vacationing with a few friends at The Plaza back in 2013 when they began arguing in the hotel. According to police docs, Baylee snatched a $1,000 Louis Vuitton purse from one of the girls and ran out of the hotel.
The purse contained $200 in cash, as well as credit cards and a Michael Kors wallet.
Security chased Baylee, who allegedly dropped the purse but somehow fled with the contents.
By the time cops arrived Baylee was long gone. There's a warrant of sorts -- it's called an I-Card -- which will allow NYPD cops to pick her up and take her to the station for questioning, if they find her in the city.
Apparently, the incident was bad enough that the alleged purse-snatching victim got a restraining order against Baylee from an L.A. judge.
Baylee's rep tells TMZ she had no idea New York City cops wanted her for questioning. She also claims her friend was the thief ... not her.
Chris Brown
has however been released on $250,000 bail. His lawyer Mark Garagos is insisting that the allegations made against the singer are false. More interestingly, the woman claiming Chris pulled a gun on her is wanted in New York for questioning in connection with criminal theft.
Ray J who was in the house when the whole drama played out later took to social media and defended pal Chris Brown after he allegedly pulled a gun out on the model and Miss California 2016 at his mansion in Tarzana, Los Angeles.
Kim Kardashian's ex was partying at the star's bachelor pad on Tuesday before the row kicked off and the singer ended up in an 11-hour stand-off with police.
Beauty queen Baylee Curran claimed he pointed the weapon at her head after she admired a flashy necklace belonging to his friend.
In a video, Ray J said: "People can take a false story and blow it up into something way more than what it should be."
According to records from the Los Angeles County Sheriff's Department, Brown was released on £250,000 bail today.
The full transcript from Ray J's video reads: "I'm real upset about today … I'm not happy with how things are handled and how people can take a false story and blow it up into something way more than what it should be.
"We got, just positive people around and you look outside and it's like a war zone for no reason, for something some stranger said about something that don't got nothing to do with nothing.
"And to react like that, so fast without really knowing the facts … It's just not right. It shouldn't be like this. I support the homie Chris [Brown] and I support the whole movement…
"This sh-t gotta change. It can't be like this every time somebody yippin' and yappin' trying to get an extra buck. It turns around and it's all bad on us. It ain't cool."