with wife and all his children.
Femi Otedola biography covers his son,wife,children,forbes,house,net worth and private jet.He is an entrepreneurial mogul and Billionaire who is the chairman of Forte Oil Plc, Zenon Petroleum and Gas Ltd, among others. The billionaire who was born in 1962 to the family of late Sir Michael Otedola, who was the governor of Lagos state between 1992 and 1993. He is from Oyo state.
Femi Otedola is the father of four children, some of who are A list celebrities in the Entertainment and Fashion industry.
Dj Cuppy,the very well known musician and Dj is his daughter.He also has another daughter Temi,who is the girlfriend of MR
Eazy,tbe afrobeats star.
He has a son Fewa,who is autistic.Autism is a

is a social development disorder which affects the cognitive, communicative and interactive ability of the brain.Some cases are mild,while other cases sees the victim not being able to communicate verbally or have normal social relations.
He is married to Nana,who
was born on August 2, 1966, in London but holds a Nigerian nationality.
Before venturing into the petroleum scene, Femi Otedola worked for his family printing press in the 90s. In the year 2003 the billionaire set up Zenon Petroleum and Gas Ltd. It rose to success by 2005, Zenon became a big name in the petroleum market. It secured deals with top Nigerian companies which they supplied Petroleum products. The succces of Zenon promoted Otedola to donate 300 million among other things to noble causes and the completion of the Abuja National Ecumenical Centre and 80 million Naira to the Faculty of Agriculture at the University of Port Harcourt. In 2010 African petroleum was rebranded to Forte Oil. Forte Oil received the profit of Otedola's petroleum company which had slumped in 2009 due to a crash in the price of oil (Zenon merging with African petroleum)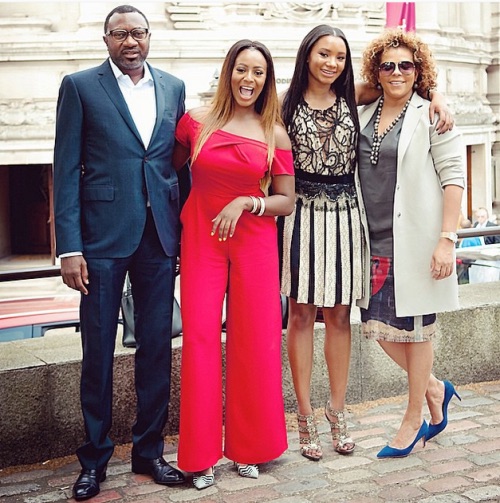 Forte Oil also got involved in power generation. This caused Forte Oil's revenue to escalate. In 2015, Forte sold 17 percent of it's equity to Swiss commodity trader Mercuria Energy group, giving Forte Oil access to global Commodity markets.
Femi Otedola also held other positions and appointments in his career, in 2011 he was appointed to the Nigerian Economic management Team by the former President Goodluck Jonathan.
Forbes published their annual rich list on March 2016 and Otedola waa among the 4 other Nigerians listed, his network was $1.8 billion and he was ranked 1011 richest person in the world. Due to a drop in the share price of Forte Oil which Otedola holds more than 78% stake in, his net-worth dropped to $1.2 billion.
Family house in Nigeria Ikoyi
As a business tycoon who has amassed a lot of wealth from the oil sector, he has lots of luxury homes and cars which he shares with his family. The most pricey of all his properties is his home in Ikoyi where he resides with his family. The home which is a snow white coloured house with a roundish architecture which has three floors, an outdoor swimming pool and a garage for Otedola's favourite car, his bulletproof Mercedes G-Class.
He also has a favourite toy in the shape of a private jet that reputedly cost $60m!
A must have for a billionaire.