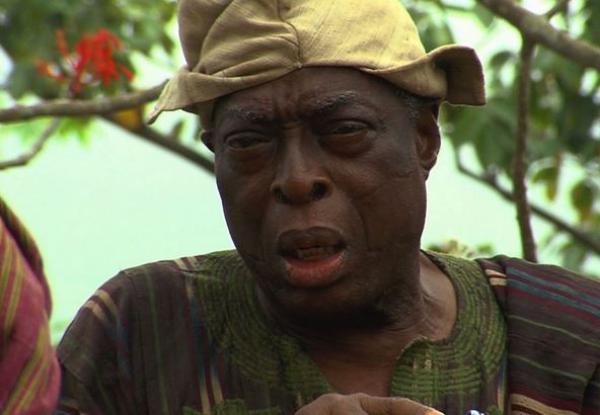 The Nigerian entertainment was thrown into sorrow at the Adebayo Faleti dead at age 86 news that rocked the airwaves.The dead playwright stands in the history of Nigerian entertainment as a

poet, journalist, writer and actor. He was also known as a Yoruba translator, a broadcaster, TV exponent and a pioneer of the first television station in Africa, Western Nigeria Television.He also translated the Nigerian national anthem into Yoruba language.
Those of the modern times will recognise him as a sage who appeared in various Yoruba movies in the last 20 years.But Faleti's history goes a long way further than that.He always had this unique and captivating look anytime i saw his photo or saw him appear on television.He was born on the 26th of December 1930 in Agbo Oye,Oyo state.He died on the 23rd of July 2017.
It should also be noted that prior to him passing away now,there had been rumours of his death.The last one i remember was about 2 or 3 years ago.The report appeared in all the dailies plus blogs.I must admit i was one of those who carried the news as well.So this time around when i heard of his demise,i was sceptical and apprehensive in carrying the news,cos i could imagine what it must have been like for his family and friends the first time around.
From an early age,his apparent love and passion for drama was apparent.Like many back in those days, his parents could not fund his education to pursue his dreams due to the lack of income, so he decided to put his primary education on hold. He then gathered a couple of interested colleagues and started his own successful theatre group, named Oyo Youth Operatic Society (founded in 1949).But he never gave up on education and he later found his way back to school by getting a job in a primary school, in which he worked for six years to raise enough funds for his secondary schooling with the financial support of his father. In 1966, he attended the University of Dakar in Senegal and obtained a Certificate of proficiency in French Language and Civilization. Two years later, he graduated from the University of Ibadan, Nigeria, with an honours degree in English. In 1971, he attended the Radio Netherlands Training Center in Hilversum, the Netherlands, and received a certificate in Television Production.
Son and parents.
He later produced and acted in several popular Yoruba plays.He is also a nenowned poet. He was the General Manager of Broadcasting Corporation of Oyo State (BCOS), which is also known as Radio OYO, Ibadan. He also in 1959 had a spell at Western Nigerian Television (WNTV), now known as NTA Ibadan, as a film editor and a librarian.
It is said that the late playwright,poet,broadcaster and actor is survived by 15 children.He had three wives.The first wife whom he married legally is Mrs. Moteniola Faleti.
One of the deceased's wives, Moteniola, said she married him in the 50s, adding that he was a loving husband who was always concerned about the welfare of his family.
Burial
"I knew him as a loving husband and I will always remember how well he catered for the family. He prepared the children for a good future by ensuring that they had good education," Moteniola said.
Another wife of the deceased, Olubunmi, could not speak to pressmen as she was sobbing uncontrollably.
Recalling the last moments of Faleti,one of his sons said

his father observed the early morning devotion with his family members and soon after told them that he had prayed to God to send someone else to continue his mission as he was tired and longing for home.
"After the morning devotion, I helped him to the bathroom as I normally did. He said he wanted God to send someone else to come and complete his work because he had done all he could do. He also said that he wanted to go home. Suddenly, I noticed that he was not breathing again. We took him to the University College Hospital, Ibadan where he was confirmed dead. We shall miss him greatly."
He spoke English, French and Yoruba languages fluently.He also translated speeches made by former Nigeria Heads of State,General

Ibrahim Babangida

and

Chief Ernest Shonekan

, Head of National Interim Government of Nigeria, from English to Yoruba.
One of his most famous books is the award winning book tilted "Eda Ko L'aropin" which received the

Festival of Arts

honour in the year 1995.
He will never be forgotten in the Nigerian arts and literature history.A man can not do more than leave a good legacy and fulfil his talents to its full potential.Adebayo Faleti did this many times over.May his soul rest in peace.