Tonto Dikeh plastic/cosmetic surgery news didn't come as a shock to many.There has slowly for a while now been this new trend of Nigerian celebs(especially Nollywood actresses) going abroad and having work done to improve their looks.
But now there is a new twist.There are now some fantastic surgeons in Nigeria who do amazing work.So the cost is much cheaper,you don't have to travel abroad buying tickets,paying for hotels etc.You can get all the comforts and your dream body at home.
I know the plastic surgeon who worked on Tonto's body.But i am not gonna mention them here and
give them publicity lol.
When the Nollywood actress had her work done to her body,which included liposuction,butt lift and possibly breast work,she actually went on camera by having it filmed and made into a documentary.Our girl does not take things in half measures,She goes the full.
But i must say she looks amazing after the work done on her.Her body is a 10 over 10 now
I have no problems with celebs who go under the knife.You only live once and if there is something about you you don't like,change it!LIFE IS TOO SHORT!
Some of the rumoured celebs said to have gone under the knife includes-Bobrisky,Iyabo Ojo,Dabota Lawson,Toke Makinwa,Tiwa Savage,Uche Jumbo,Rukky Sanda.
Bobrisky,now that is an interesting one.Should he even come under the female category?He openly posted that he was having a butt job done,and his backside has since grown,but many are saying it is a padding he wears.He has recently also been showing cleavage..lol..But that also is said to be a fake padding.I must admit though that Bobrisky actually looks prettier than a lot of ladies.It is amazing what he has become from what he was.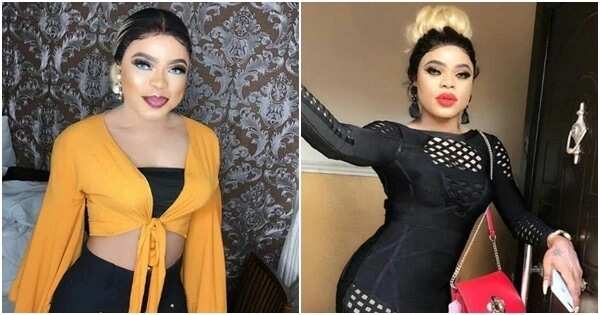 As per Toke Makinwa,that is actually not a rumour.She openly admitted to having her backside done.She said she never liked her booty and had always wanted it done.Well,since she had it done,she can't stop showing off her new little friend.It actually looks good.
Dabota Lawson too miraculously appeared with a bigger but and curves.And she has been taking pictures flaunting it.It does not take a scientist to see that she had had cosmetic surgery.She looks good too.
Iyabo Ojo the Yoruba actress on her own path,was said to have been lucky not to have lost her life.The story goes,she went all the way to Turkey to have a tummy tuck.She was rumoured to have been in a coma for 5 days and almost died!
But if she did have it done,she looks amazing now.You can judge them all by these pictures.